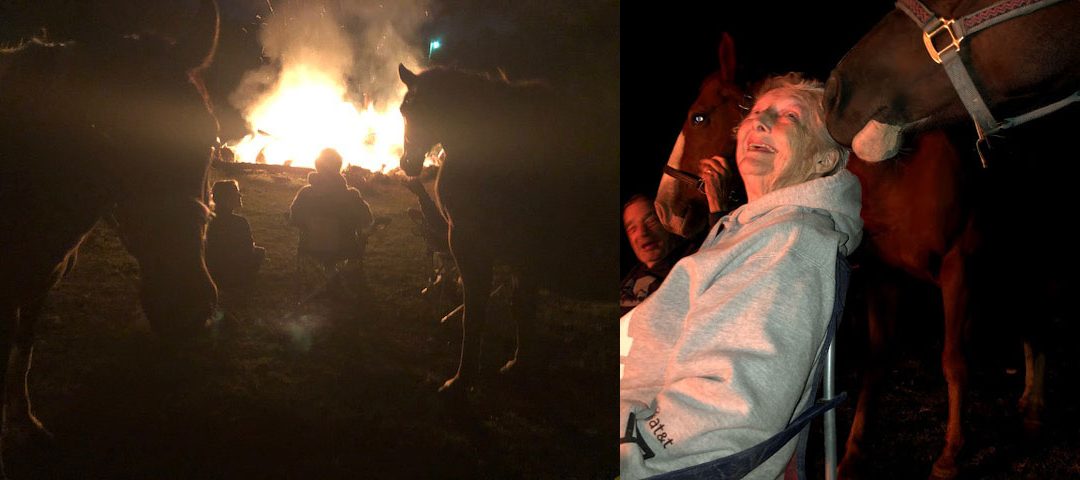 My favorite time of the year in Texas is Autumn! We have an annual 'ranch day' where we invite family and friends to come down for a day of horseback riding, fishing, bonfires and brisket.
Our horses are truly part of our family. Horses are as many of you know, 'fight or flight' animals and are typically frightened by fire and will avoid it BUT, our horses love hanging out at the bonfire with us! My mother used to be frightened of all horses, and a bit apprehensive about being around them, but Cody, Lucy and Bandit slowly removed her fear and changed her opinion and over time a trust and love replaced her anxiety. She now loves our horses and you will find a bag of carrots or homemade oatmeal cookies in the car when they come over for her 'horse babies';They kept coming up to her and nuzzling her as she sat and watched the fire.
Horses are so therapeutic in so many ways, they are very intuitive and nurturing. I experience this every day as I work with, care for them and love on them.
It has been fun watching my daddy relive his childhood memories with horses. It had been probably 30 years since he had been on a horse and he picked up right where he left off! Like riding a bicycle.
We would love to hear your favorite horse memory! Please submit pictures and tell us your story! Until next time….
Keep your boots in the stirrups and have a blessed day!
Kathleen